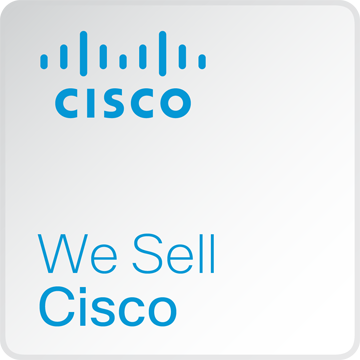 We partner with Cisco, because when you give us your trust... we have to be able to rely on and trust our partners in order to not let you down. The same trust that you place in us is what we expect and mandate from our suppliers and manufacturers. The Cisco name is synonomous with reliability, but that is not the sole reason that we place our faith in Cisco. Every Cisco product we deliver is offered with a Cisco Support Agreement and we rely heavily on that agreement being in place. If a failure occurs, we can rely on Cisco to provide immediate support, rapid response, overnight replacement and immediate unlimited support while we bring you back on line. When you busines relies on the equipment we provide, we rely on Cisco and their world class support and warranty solutions they back us with to help us get you back up and working in the most efficient and most expedient manner possible. We have your back and Cisco has ours. Exceptioinal reliability, support and service like no one else in the industry can offer. Cisco is our premier product line.
Cisco System, Inc. (Cisco), incorporated on December 10, 1984, designs and sells lines of products, provides services and delivers integrated solutions to develop and connect networks around the world, building the Internet. The Company is engaged in designing, manufacturing and selling Internet Protocol (IP)-based networking and other products related to the communications and information technology (IT) industry, and provides services associated with these products and their use. The Company operates its business through three segments: The Americas; Europe, Middle East, and Africa (EMEA), and Asia Pacific, Japan, and China (APJC).
The Company groups its products and technologies into the various categories, such as Switching, Next-Generation Network (NGN) Routing, Collaboration, Service Provider Video, Data Center, Wireless, Security, and Other Products. These products, primarily integrated by Cisco IOS Software, link geographically dispersed local-area networks (LANs), metropolitan-area networks (MANs) and wide-area networks (WANs). The Company's other products category consists of certain emerging technologies and other networking products. In addition to its product offerings, it provides a range of service offerings, including technical support services and advanced services. Cisco delivers its technology and services to its customers as solutions for their priorities, including cloud, video, mobility, security, collaboration and analytics. Its customers include businesses of all sizes, public institutions, governments and communications service providers.
Switching

Switching is an integral networking technology used in campuses, branch offices, and data centers. Switches are used within buildings in local-area networks (LANs) and across great distances in wide-area networks (WANs). The Company's switching products offer various forms of connectivity to end users, workstations, IP phones, wireless access points, and servers and also function as aggregators on LANs and WANs. Its switching systems employ several technologies, including Ethernet, Power over Ethernet, Fiber Channel over Ethernet (FCoE), Packet over Synchronous Optical Network and Multiprotocol Label Switching. Many of the company's switches are designed to support an integrated set of advanced services, allowing organizations to be more efficient by using one switch for multiple networking functions rather than multiple switches to accomplish the same functions.

The product platforms within company's Switching product category, in which it also includes storage products, are Fixed-Configuration Switches, which include Cisco Catalyst Series (Cisco Catalyst 2960-X Series, Cisco Catalyst 3650 Series, Cisco Catalyst 3850 Series and Cisco Catalyst 3850 Series) and Cisco Nexus Series (Cisco Nexus 2000 Series, Cisco Nexus 3000 Series, Cisco Nexus 5000 Series and Cisco Nexus 6000 Series); Modular Switches, which include Cisco Catalyst Series (Cisco Catalyst 4500-E Series, Cisco Catalyst 6500-E Series and Cisco Catalyst 6800 Series) and Cisco Nexus Series (Cisco Nexus 7000 Series and Cisco Nexus 9000 Series), and Storage, which include Cisco MDS Series (Cisco MDS 9000). Fixed-configuration switches are designed to cover a range of deployments in both large enterprises, as well as in small and medium-sized businesses, providing a foundation for converged data, voice and video services. Its fixed-configuration switches range from small, standalone switches to stackable models that function as a single, scalable switching unit. Modular switches are used by enterprise and service provider customers with large-scale network needs. These products are designed to offer customers to deploy numerous, as well as advanced, networking services without degrading overall network performance.

Fixed-configuration and modular switches also include products, such as optics modules, which are shared across multiple product platforms. Its switching portfolio also includes virtual switches and related offerings. These products provide switching functionality for virtual machines and are designed to operate with virtual services to optimize security and application behavior. The Company's Cisco ACI consists of the Cisco Nexus 9000 Series Switches, a Cisco advanced programmable interrupt controller (APIC) and accompanying centralized policy management capability, integrated physical and virtual infrastructure, and an open ecosystem of network, storage, management and orchestration vendors.
NGN Routing

Next-Generation Network Routing technology is fundamental to the foundation of Internet. This technology interconnects public and private wireline and mobile networks for mobile, data, voice and video applications. The Company's NGN Routing portfolio of hardware and software solutions consists primarily of physical and virtual routers, and routing and optical systems. It offers a range of hardware and software solutions, from network infrastructure and mobile network routing solutions for service providers and enterprises to access routers for branch offices and for telecommuters, and consumers at home. The products within its routing category include ;, which include Cisco Aggregation Services Routers (ASRs) (Cisco ASR 901, 902 and 903 Series, Cisco ASR 1000 Series, Cisco ASR 5000 and 5500 Series, and Cisco ASR 9000 Series), Cisco Carrier Routing Systems (CRS) (Cisco CRS-1, Cisco CRS-3 and Cisco CRS-X), Cisco Network Convergence System (NCS) (Cisco NCS 6000 Series), Cisco 7600 Series, Cisco 12000 Series, Cisco Quantum Software Suite and Small cell access routers; Midrange and Low-End Routers, which include Cisco Integrated Services Routers (ISRs) (Cisco 800 Series ISR, Cisco 1900 Series ISR, Cisco 2900 Series ISR and Cisco 3900 Series ISR) and Cisco ISR-AX, and Other NGN Routing, which includes optical networking products (Cisco NCS 2000 Series, Cisco NCS 4000 Series, Cisco Cloud Services Router 1000V and other routing products.
Collaboration

The Company's collaboration portfolio integrates voice, video, data and mobile applications on fixed and mobile networks across a range of devices and related IT equipment, such as mobile phones, tablets, desktop and laptop computers, and desktop virtualization clients, sometimes collectively referred to as endpoints that people use to access networks. The product areas within its Collaboration category includes unified communications, which include IP phones, call control, call center and messaging products, software-based instant messaging (IM) clients, and communication gateways and unified communication; conferencing, which include Cisco WebEx Meeting Center and Cisco Collaboration Meeting Rooms; Cisco TelePresence Systems, which include Collaboration desk endpoints, Collaboration room endpoints, Immersive systems, Cisco TelePresence Server and Cisco TelePresence Conductor, and enterprise mobile messaging, which includes Cisco Spark.
Service Provider Video

The Company's end-to-end, digital video systems and digital interactive, subscriber devices and Data Over Cable System Interface Specification(DOCSIS) headend and access equipment enable service providers and content originators to deliver entertainment, information, and communication services to consumers and businesses around the world.

The product areas within its Service Provider Video category include Service Provider Video Infrastructure and Cable Access, which include Set-Top Boxes (digital cable and IP set-top boxes), cable modems (data modems, embedded media terminal adapters and wireless gateways), Connected Life platforms, cable/telecommunications access infrastructure, which include Cable modem termination systems (CMTSs), Hybrid fiber coaxial (HFC) access network products and Quadrature amplitude modulation (QAM) products, and Service Provider Video Software and Solutions, which include content security systems, digital content management and distribution products, digital headend products, virtualized video processing systems, integration and customization offerings, and cloud-based end-to-end video entertainment solutions.
Data Center

The Cisco Unified Computing System (UCS) enables IT by combining computing, networking and storage infrastructure with management and virtualization. Its architecture provides pools of policy-driven, composable infrastructure that customers can optimize for traditional workloads, data analytics and cloud-native applications, all within an operating environment with an open application program interface (API) for interoperability and automation. The product areas within its Data Center product category include Cisco Unified Computing System (UCS), which includes Cisco UCS B-Series Blade Servers, Cisco UCS C-Series Rack Servers, Cisco UCS M-Series Modular Servers, Cisco UCS C3160 Storage Optimized Rack Server, Cisco UCS Mini branch/remote site computing solution, Cisco UCS Fabric Interconnects, Cisco UCS Manager and UCS Director Management Software; Private and Hybrid Cloud, which includes Cisco ONE Enterprise Cloud Suite and Cisco Intercloud Fabric, and Server Access Virtualization, which includes Cisco Nexus 1000V.
Wireless

The Company's wireless access through wireless fidelity (Wi-Fi) is a technology with organizations across the globe investing to provide indoor and outdoor coverage with roaming for voice, video and data applications. Its wireless solutions include wireless access points; standalone, switch-converged and cloud-managed solutions, and network managed services. Its wireless solutions portfolio is enhanced with security and location-based services through its Mobility Services Engine (MSE) solution. Its offerings provide users with management and mobile device troubleshooting features. It is also investing in customized chipset development. Its High Density Experience (HDX) suite of solutions, including Cisco CleanAir proactive spectrum intelligence, its ClientLink solution for mobile devices, and its VideoStream video optimization technology are illustrations of ongoing investment activity in this area. The product areas within the Wireless category are Cisco Aironet Series, access point modules for 3700 Series and 3600 Series, controllers (standalone and integrated) and Meraki wireless cloud solutions.
Security

The Company's security portfolio of products and services is designed to offer a solution that collects and shares intelligence with a coordinated focus on threats across the entire attack continuum-before, during and after an attack. These solutions include network and data center security, advanced threat protection, Web and e-mail security, access and policy, unified threat management and advisory, integration and managed services. Its Security category includes threat-focused next-generation firewall (NGFW) solution. The Company integrated its FirePOWER Services solution (Sourcefire's NGIPS) within its Advanced Security Appliances (ASA) portfolio to create the threat-centric NGFW solutions. It also includes several hardware platforms that can also be enabled with FirePOWER Services, such as ASA 5506-X, 5508-X, 5516-X, 5506H and the FirePOWER 9300.
Advanced Service Solutions has been working with Cisco since 2007. We strongly recommend Cisco solutions to our clients and have helped them choose, understand, implement, use and support their Cisco Technology since before the Internet and Cloud were invented.
Call today for more information and a free initial consultation.
Contact our Cisco Specialist at: +1 (561) 432-1404